Digital perspectives.
What does digitisation have to do with debt collection? Klaus Engberding, CEO of the EOS Group, has put a lot of thought into the future – and ventured a bold move.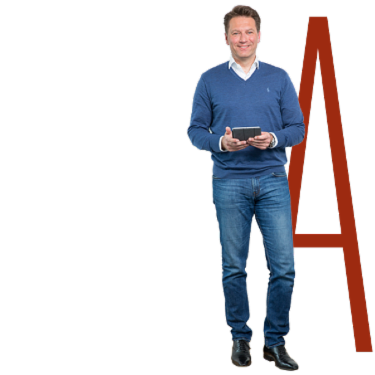 As CEO of the EOS Group, for the first time you can look back on a complete financial year. It is no coincidence that the theme of this year's annual report, 'Insights', is 'challenge accepted'. What was your biggest challenge over the past months?
Klaus Engberding: Although I took over the Group at a very successful moment, it was clear to me that I would have to deal with some issues with regard to the future: What stimuli do I want to give the EOS Group? In what direction do we have to develop in order to continue our success story? And finally: How can a digital perspective contribute to this? Purpose, heartbeat and vision now provide the answers.
What was, in fact, the most difficult task in this respect?
Mr Engberding: It was an enormous challenge to answer these questions for all the almost 7,500 employees in 26 markets, which are to some extent very different. I was aware that first of all, we need a common central theme, namely: Why do we actually come to work every day? Together, we have worked out a purpose 'For a debt-free world' with all our employees and not simply put it in front of them. This is important. We did not wish to come up with a meaningless platitude but something meaningful that affects everyone – something found in this form only at EOS.
Together, we have worked out the purpose 'For a debt-free world' with all our employees and not simply put it in front of them.
And do you notice any change amongst the employees?
Mr Engberding: Absolutely. We look at ourselves and our business differently. In our purpose we have formulated our wish: 'For a debt-free world'. But of course, we know that there will always be loans in the world, for example, to finance a house or promote a business with investments. And naturally, that is as it should be. But we want to support those people who are no longer able to pay their bills and who are looking for a way out. We achieve this through realistic payment plans, an individual approach and fast processing. In line with our purpose, we analyse where we meet our self-imposed standards and where we do not. If we should not do this in one instance, we work full steam ahead on finding a solution. That too, also means 'For a debt-free world' for us.
Apart from the purpose, why does it still require the heartbeat?
Mr Engberding: The heartbeat describes how we meet our targets and how we intend to work together. We have agreed on seven principles, for instance 'be courageous', 'embrace change' and 'trust'. An example: When entering new territory, we analyse all risks and immediately search for solutions. As the EOS Group we accomplish this very well. I trust my employees to be able to manage problematic situations. For me, this is entrepreneurial spirit.
I trust my employees to be able to manage problematic situations. For me, this is entrepreneurial spirit.
There is also a new vision for EOS. Why does it guarantee success?
Mr Engberding: The vision illustrates what we will do in future and what our core business will be, namely: 'We are a globally connected financial investor driven by technology and entrepreneurial spirit'. Today we are a successful debt collection company. We know how to process receivables and are able to assess them. That is why, as an investor, we will in future concentrate even more on debt purchase – particularly with regard to portfolios secured by real estate. The new technologies that come along with digitisation – like artificial intelligence and many others – separate two aspects: processing receivables, in other words, traditional debt collection and know-how concerning receivables. We accumulate this knowledge with complex data analyses and can use it to control the processing of receivables. We will do this using our self-learning, debtor-centric software solutions. As I have already said, this will in turn benefit people who have a genuine interest in getting out from under a mountain of debt.
Споделете това